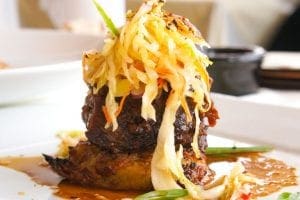 Fall is here! The nights are cooler and indoor activities are heating up. Now is the time for long sleeves, boots, and fall colors.
A fantastic fall night out in Reno is exactly what you need to complement your perfect fall day. So, to make the most out of your night out in Reno, we put together a list of activities you might want to check out, along perfect food pairings from our kitchen.
Take in Some Theatre
Reno is filled with independent theatre companies which put on shows, from Broadway plays to indie favorites, year round. Check out Reno Little Theatre, The Bruka, or the new kid in town Laughing Owl Productions. Our Tribeca pizza, made with Molinari salami, Italian sausage, pepperoni, olives, and cheese offers a New York flavored accompaniment to this Broadway classic. Or go full on New York with our 14 oz. certified Angus New York steak in a red wine demi reduction, served with potatoes au gratin, and seasonal vegetables.
Cowboy Up
It's a mouthful, but you'll get your eyes full of cow poke action at the National Reno Cow Horse Association Snaffle Bit Futurity competition at the Reno-Sparks Livestock Events Center from September 19 to October 1. This performance competition in rein work, herd work, and fence work is a triathlon for equine athletes. Put on your cowboy boots and mosey on over to us to pair up your country themed evening with our Hoisin braised short ribs, served with mashed potatoes, and (for a west coast twist) braised kale. A night out in Reno would be nothing without a little west coast influence.
Laugh Your Dinner Off
Reno Tahoe Comedy at the Pioneer Underground lines up some of the best comedians from radio, television, and film. You will see local favorites there as well. The headliners this fall include a favorite from Showtime, Comedy Central, The George Lopez Show, and The Carson Daly show, Quinn Dahle (September 29 through October 1). Headliners at Reno Tahoe Comedy are announced regularly and new comics are coming throughout the fall season. You will be smiling when you visit us before the show and have either our Petrale sole or chicken piccata, each made with mushrooms in a lemon caper beurre blanc. Each dish is served on a bed of linguini and with a side of seasonal vegetables.
Now go have a great night out in Reno!