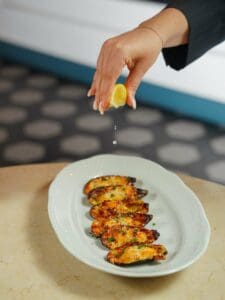 When you're in Reno, craving the most succulent mussels, The Grill at Quail Corners is the premier fine dining location in Reno. Stepping into The Grill isn't merely about savoring a meal; it's an immersion into a family legacy spanning well over a hundred years.
A Glance into The Past: Eli Francovich's Groundbreaking Legacy
The Grill Reno boasts a rich lineage, rooted deeply in the heart of Reno. In the 1850s, Eli Francovich, the great, great grandfather of the current owner, ventured to Reno and set the cornerstone for what would become a thriving restaurant empire. His establishment, the Wine House, wasn't just one of the earliest restaurants in Nevada, it was a hub for social gatherings, boasting the state's earliest liquor and gambling licenses. The Wine House was a testament to Eli's dedication and became a favorite among both locals and visitors.
The Francovich legacy was carried on by Eli's son, Spiro, and the generations that followed. A quick peek into history reveals the iconic Francovich House – a mansion built by the family and recognized today as an architectural marvel in the western United States.
A New Chapter: The Grill at Quail Corners
After an interlude where the family ventured into other fields, Sam Francovich reignited the family's passion for the culinary world by establishing The Grill in 1999. The Grill is not just a return to the family's roots but a reimagining of the past, blending the rich history of the Wine House with modern, sophisticated culinary expertise.
Why The Grill Stands Out

In the heart of Reno, The Grill is renowned for its top-tier culinary offerings, especially its mussels, which are touted as the freshest in town. But the menu isn't the only draw. The ambiance, reminiscent of the class and sophistication of the bygone era of the Wine House, makes it the ideal destination for fine dining in Reno.
This eatery encapsulates both the simple and the sophisticated. Whether you're craving a classic sandwich or an elaborate steak dish, The Grill has something to tantalize your taste buds. And with an extensive beverage menu curated by owner Sam Francovich, carrying forward the family's tradition of distillation, you're in for a treat.
Speaking of tradition, the Francovich Holiday Nog and the ready-to-drink Manhattan cocktail are treasures that have been brought to the commercial market, reflecting the family's deep understanding and love for beverages.
The Grill at Quail Corners is more than just a dining destination. It's a journey through time, a glimpse into the rich tapestry of Reno's history, and a testament to the Francovich family's enduring legacy in the city's culinary landscape. When you dine here, you're not just enjoying some of the freshest seafood in Reno – you're becoming part of a story that spans over a century. Join the legacy and experience the best that Reno has to offer.