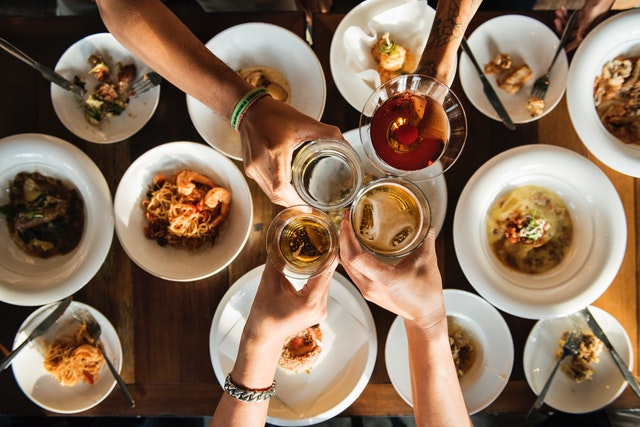 In preparation for our 20th Anniversary, we spoke to one of our loyal customers, Sean Gamble, and she was kind enough to tell us 20 reasons why she loves The Grill! Sean's been dining at the best restaurant in Reno for years and knows Sam and Diane very well. Check out why Sean loves the Grill!
Watching people attempt to open the front door on the right to exit the restaurant. In 20 years, that door has never been unlocked, yet 80 percent of the patrons will try.
The various attempts Sam and Diane have made to direct people on the right path to the restrooms.
Knowing you'll see at least four people you know.
Knowing you'll see at least four people you want to avoid, but you go anyway.
Being greeted with a big beautiful smile, unless Sam is the hostess.
Watching to see who snags the biggest cookie when the plate is delivered with the check. Also, waiting to see who devours the last remaining cookie on the plate.
Being greeted with big grins from everyone in the open kitchen upon arrival.
Francovich Egg Nog season. The season hasn't arrived without it.
Shelly. Simply Shelly. We think she started there before they opened.
The high top, center court, "see and be seen" tables, when you don't want to hide your crazy.
The Patio for the Spring, Summer and unseasonably warm fall and winter days. The sunshine adds vitamin D to go with your meal/wine, whichever comes first.
Private parties in Vino Reno. Sometimes you want to hide your crazy.
The visits from the sparkly red-nosed Santa with his candy canes in December. We think he spends a little time in Vino Reno prepping for the Grill visits.
Sitting a table away from any one of our elected officials, including the Governor, Mayor, council, commission, Congress and legislature. They have to eat too.
The wine menu, everything on the wine menu.
Guessing how many pounds of candy is in the 5-foot tall candy dish, and wondering what year the pieces at the bottom went in.
The Chef's ability to modify dishes for the hard to please kids, and some of those other people. You know who you are.
The Francovich Manhattan on the daily special menu. Every day. Day after day, after day, except on Sundays. Yeah, the Grill is closed on Sundays, but you can take a bottle to go on Saturday to complete your week.
The absolute willpower it takes to pass the fresh bread baker's table without grabbing your own piping hot baguette and sinking your teeth into the still steaming dough.
The love and hugs from Sam and Diane.
Swing by the Grill at Quail Corners on Saturday, November 16th between 4 p.m. and 8 p.m. to celebrate 20 years of culinary bliss with Sam and Diane.