A serial dine-and-dasher who frequented restaurants in Reno, NV was arrested by the local police after he was exposed on Facebook. The man, identified as Saul Zelaznog, had cheated several bars and restaurants in the area.
Eater.com reported that, after dining at the local craft beer bar called The Brewer's Cabinet, Zelaznog skipped out on his bill of about $100. Workers at the establishment filed a police report and posted his photo on Facebook to warn other restaurants in the area. The post reads in part, "ATTN RENO: If you know, or see, this dude, please call RENO POLICE DEPT at 334-2121 immediately, and then remind him that his tab at The Brewer's Cabinet is still waiting to be paid."
Shortly after it was posted, other local restaurants stepped forward to claim that they, too, had been victimized by Zelaznog. The online outcry led to his identification and enabled authorities to track him for violating an unspecified probation. He was eventually booked into the Washoe County Detention Center.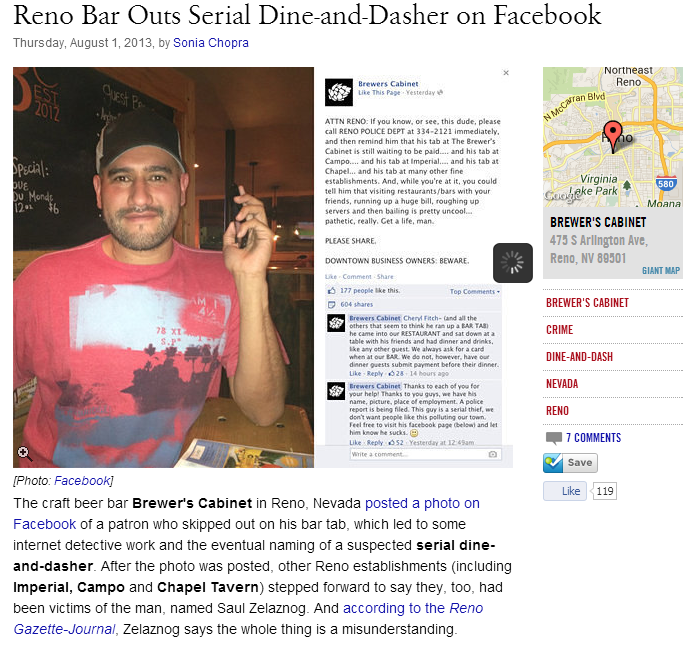 Zelaznog explained that the incident at The Brewer's Cabinet was a misunderstanding. He said that he had simply forgotten to pay but had already asked his family to wire him money. Asked why he would go out to eat even when he is unable to pay, he said it was a "mistake." His reason, however, was not given enough weight by authorities because he had repeated the act several times and even admitted to dining without money at another restaurant where he left a "nice watch" as collateral.
The arrest of the serial dine-and-dasher was greatly facilitated by the Internet. A decade ago, it would have been difficult to expose him. He could have eaten in various Reno dining establishments and ditched bills without being tracked because there weren't social media tools that could quickly warn countless others about his con game. Unfortunately for him, times have changed. Restaurants now make the most out of websites and Facebook pages to keep their customers updated on their latest menus, events, and promotions. Some, like The Grill at Quail's Corner, even use these to provide driving directions and virtual tours.
After Zelaznog's arrest, The Brewer's Cabinet posted another status update on their Facebook page. They thanked their network of friends and patrons for supporting their cause and reminded the dine-and-dasher (and others like him) to be more responsible. The last part of their message reads, "We hope that all of his outstanding debts are paid in time. But more importantly, that he makes wiser decisions in the future."