After a long and stressful day of working hard, "happy hour" is probably the best thing you'll hear all day. Affordable drinks and (hopefully) reasonable food – what could be better? And the deals aren't the only things to look forward to. Heading to a Reno happy hour after work with some friends, family, or your significant other can help make memories that'll last a lifetime, and the affordable drinks are just a bonus. 
So, how do you find the best Reno happy hour? Use these guidelines for finding the perfect happy hour spot and a place to unwind after a long day.

Food 
When you're leaving work and are headed to grab some drinks with your co-workers or friends, you're probably also pretty hungry. Finding a happy hour spot that extends their drink specials to the fine dining food menu is a spot you want to be in in Reno. Most of these places will offer small snacks at a discount, and some even offer full meals at lower prices. Even if you aren't hungry right when you get there, you could always order something before happy hour ends and save your food for later. 
Drinks
If you're not a fan of drinking beer and that's all they have on their happy hour menu, then you're in the wrong place. A great happy hour bar or restaurant will have a few beer, wine, and cocktail options on their menu. This way everyone in your dining party is able to find something they'll like. And make sure that the drinks on the happy hour menu are actually a good deal. A bar that promotes an $8 beer as a happy hour special, is not really a deal.  
Ambience 
Finding the best happy hour starts with finding the best location. Some of us want a place that's quiet and relaxing, while others want to find a happy hour spot that's fun and lively. And when the weather is warm and sunny, sitting outside might be exactly what you need after a tough day. Even the lighting and decor of a restaurant can influence your decision when it comes to picking the perfect happy hour location. Dim lighting may not put you in the best mood and sometimes harsh bright lights can be uncomfortable after some time. 
Whatever your preferences may be, make sure you find the right place for you to unwind, and have a good time. 
Happy Hour Saturdays
Who said that happy hour wasn't meant for the weekends? While most happy hours only promote their specials Monday through Friday, a great happy hour spot will also have this available on Saturdays as well. Being able to relax on a Saturday with some friends or family while enjoying some drinks is very common. And it'd be even better if there was a happy hour available. So, look for a happy hour that extends through the work week and into Saturday. 
Happy Hour Rewards
Loyalty rewards have become increasingly popular recently. Who doesn't love getting rewarded for visiting their favorite restaurant or bar? If you've found a happy hour spot that you love, see if they offer a reward system. If you're visiting them often, then the rewards card will really benefit you by giving you an even bigger savings.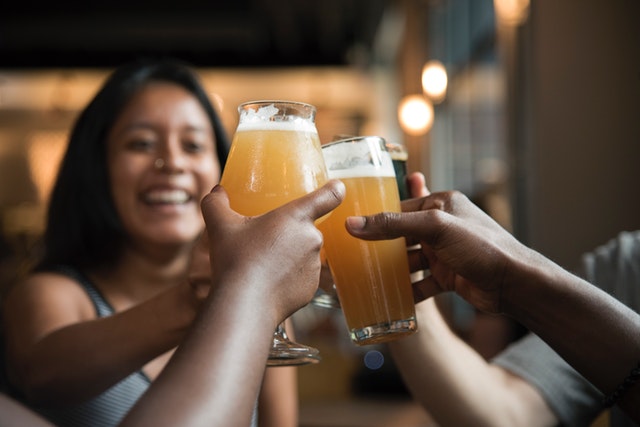 Happy Hour in Reno at The Grill
At The Grill, happy hour isn't just about the drinks. It's about the food, the atmosphere, and the overall Reno fine dining experience you get. Our happy hours are from 4 – 6 PM Monday through Saturday. We have beer, wine, and cocktails on the menu for $3-$5, and food options ranging from $4-$8. Our outdoor patio is perfect for summer fine dining in Reno, and our indoor seating is nice and relaxing. And of course, don't forget about the rewards! We offer a Loyalty Rewards system that gives you more bang for your buck. Connect with us today and see how our rewards system works, or reserve a table and check out our Happy Hour Menu!
Check Out the Reno Happy Hour Menu