This October 16th, The Grill at Quail Corners/Vino Reno is set to host the Reno Speakeasy – an event being held to raise funds for Renown Children's Hospital. Take a trip back in time with us for a 1920s experience that will make you feel like you're in the center of the Prohibition era. From delicious food and drink classics to traditional 1920s fashion, the Reno Speakeasy is guaranteed to be a fun and enjoyable experience for our guests. 
A Speakeasy is traditionally an illegal bar that sells alcoholic drinks. Back in the Prohibition era, the alcohol ban meant any person caught drinking or selling alcoholic beverages would face legal penalties. To keep such establishments a secret, guests were told to "speak easy" about the bars in fear that authorities would find out. 
Today a speakeasy uses the influences and characteristics of 1920s speakeasies to make guests feel like they're taking a step back in time. We encourage guests to dress in 1920s attire to help the theme come to life. For an evening of roaring fun benefiting Renown Children's Hospital, get your tickets today! Look below for ticket information.
Reno Speakeasy Details 
Where: The Grill at Quail Corners/Vino Reno

When: October 16, 2021 5:30 PM – 8:30 PM
How to Purchase Your Ticket 
Each ticket costs $60. To purchase tickets, please do one of the following:
Call or text 616.570.3389

Send a message to renospeakeasy@gmail.com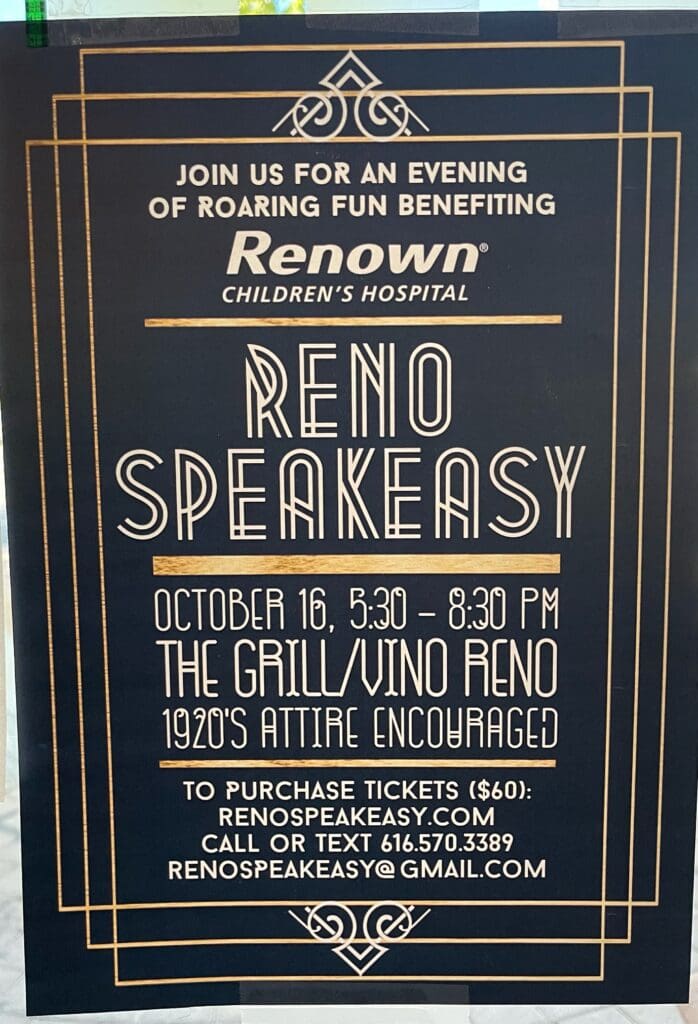 Get Your Ticket to the Reno Speakeasy Held by The Grill and Help Renown Children's Hospital!
If you're interested in raising some money for your local children's hospital and want to enjoy a unique night out with your community, get your tickets to the Reno Speakeasy today!