People tend to look beyond the boundaries of their home state when creating a bucket list. This is because they believe they have seen all there is to see in the area. Often, such a disposition causes locals to miss historical sites and events. At times they also dismiss new developments that draw foreigners to their hometown. Residents of Nevada, however, are not likely to fall prey to this mistake. Thanks to a travel campaign, there is an expected boost in state tourism and open opportunities for the various industries in the region.
Discover Your Nevada Campaign
In a press conference held in Carson City, Gov. Brian Sandoval proudly launched the Discover Your Nevada campaign. It was designed to encourage Nevadans to acquaint themselves with the various offerings of the state. With the extension of museum hours, locals will have more time to gain a deeper appreciation of their culture. Once tourists' stomachs start growling, travelers can get a fill and replenish their energy in locally-owned restaurants in Reno, NV.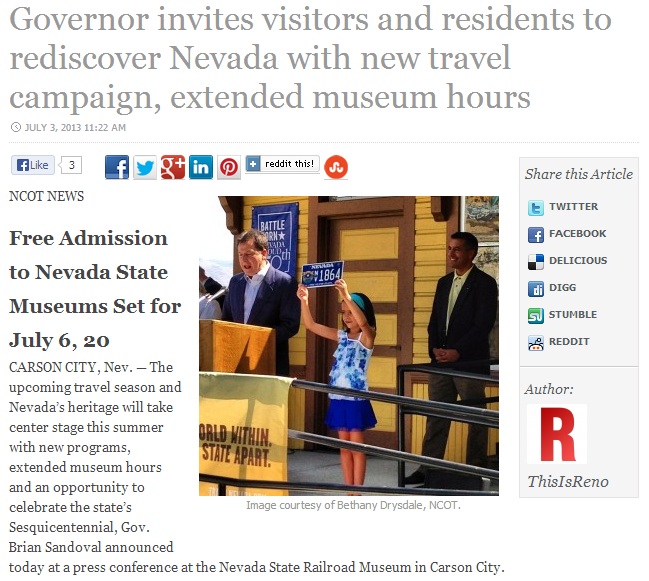 Best Reno Restaurants
Travelers shouldn't miss the opportunity to try the state's finest dining locations while visiting historical museums of Nevada. Restaurants like The Grill at Quail Corners have a diverse menu that even picky eaters would love to try. The ambiance is also conducive to casual dining, perfect for tourists who would like to spend some time with an acquaintance in the state or with a long-lost friend from the city.
The Nevada Treasure
To encourage people to rediscover the wonderful Silver State, the travel campaign spearheaded by the Nevada Commission on Tourism allowed nominations for the best Nevada Treasure. The treasure can be a place, event, or an experience exclusive to Nevada. Thus, one can pull for an evocative sculpture in a museum, a world-renowned state park, or even a sumptuous dish served in restaurants where one can have fine dining in Reno.
The travel campaign will coincide with Nevada's sesquicentennial anniversary, which is a historic event that both locals and tourists should not miss. A commemorative plate has already been issued in honor of the much-anticipated occasion. Residents and visitors can join this momentous celebration by immersing themselves in Nevada's rich heritage. They can participate in museum hopping or food tripping to get a feel of the culture Nevada residents should really be proud of.
Before dreaming of stepping into new borders and dining on exotic meals, it would only be fitting for bona fide wanderlusts to first familiarize themselves with their motherland. After all, faraway places do not always have the best views and the tastiest food. Why not start exploring your own hometown; who knows, what you may find may surprise you.