Get Fresh Halibut at The Grill
If it were any fresher, it would still be in Alaska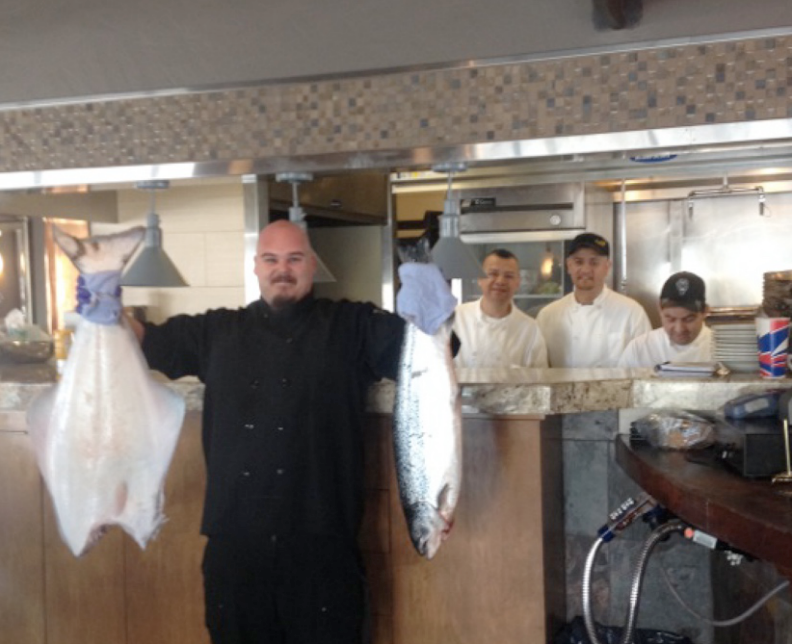 If you love seafood, there are few things more delicious than fresh fish. Real seafood lovers travel to Alaska, Maine, Florida, or the California coast for a fresh caught meal. For those in Reno who love halibut, a light-bodied white fish which takes on the flavor of its accompaniments, Alaska is the place to get it. In fact, people who really love halibut have been known to travel down to Homer, Alaska and buy their fish directly from the boat drop off point at the Homer Spit.
Fortunately, you don't need to travel to Alaska to get fresh-caught halibut in Reno. You can get it right here in Reno! The Grill is considered the best restaurant in Reno because we bring in fresh-caught whole halibut from Alaska throughout the season, which runs from May until November. When we get it in, it weighs anywhere between 30 and 60 pounds! Our expert chefs portion it out and offer it pan seared, grilled, or sautéed. We offer a Chef's special every day, where our expert chefs choose their favorite preparation and serve it to you. Even without the special, that 30 to 60-pound fish doesn't last long and our amazing halibut goes fast.
This is because halibut fans aren't limited to people who love seafood. Those who swear they don't like fish find themselves ordering halibut when they see it on the menu. Unlike salmon, which has a very distinct flavor, halibut is light, flaky, and takes on the flavor of sauces and the other accompaniments on the plate. Try it with lemon, capers, and butter for a light lunch, or get our Pan Seared Halibut for dinner. This filet of halibut, featured on our Reno fine dining menu, is served with salt and pepper over poblano peppers, roasted garlic, and basic risotto. It's topped with pesto artichoke hearts and garnished with an Aruglio tomato salad.
Halibut is filling, healthy, and absolutely delicious. So you can be health-conscious and feel like you are being a bit decadent too. Fresh halibut is a seasonal, available March through November. That means, if you want halibut so fresh you would swear you are in Alaska, you need to dine with the best restaurant in Reno to get this best-selling dish. Your taste buds will thank you for dining at The Grill. You can thank us for the unforgettable Reno fine dining experience you will have at our restaurant!